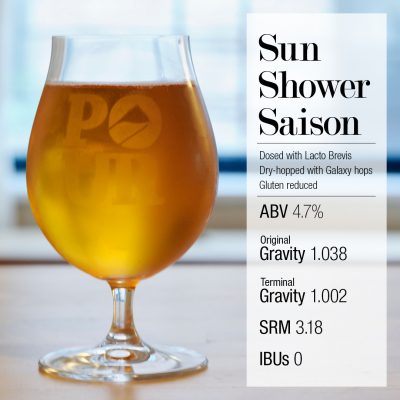 After much planning and some apprehension, The Pour Report homebrew wife finally brewed her very first beer this summer. While the brew day itself went quite well, the final product, christened Sun Shower Saison, wasn't quite what I had hoped for. Conceived as a refreshing, low-alcohol "tart, crisp, and slightly fruity beer" for the dog days of summer, Sun Shower was able to live up to most of what I've just described. The most disappointing characteristic was the flavors contributed by the saison yeast, specifically the peppery spiciness. While I've always considered myself a fan of saisons, I'm finding that my palette interprets the peppery spiciness as more of a distraction than a complement to the beer. On the flip side, I have discovered that there is no such thing as "too tart" when it comes to my palette and I wish Sun Shower had a little more tartness to it. As a result, I find myself very much disliking this beer and already have plans to rebrew this recipe with a different yeast. Stay tuned to see how Version 2 turns out…
Tasting Notes:
Jessie's Review:
Judged against my original intent to brew a "refreshing, low-alcohol tart, crisp, and slightly fruity beer"

Aroma (8/12):
Peppery with a hint of ham (reminiscent of the carved ham station at King's Table Buffet). When fresh, the Galaxy hops bring a nice melon (mainly cantaloupe) flavor.
Appearance (2/3):
Yellow-to-gold range (if there are any designers reading this, think PMS 7405). Relatively clear, but with very poor head retention.

Flavor (10/20):
Peppery spiciness with melon and a touch of salt. A subtle hint of barnyard funk and tartness.
Mouthfeel (3/5):
Very light body with seltzer-like qualities. Could afford to be more carbonated.

Overall Impression (5/10):
If I had set out to brew non-alcoholic water, I'd be ecstatic! But as it stands, I'm satisfied that my first beer came out without any major flaws.

Good (28/50)
Nick's Review:
Judged as 2015 BJCP Category 34C Experimental Beer
Beer Description: Ultra low alcohol (3.0%) saison. Minimal malt, light fruity hop character, soft lacto sourness. Dry, crisp, effervescent, quenching.
Aroma (7/12):
A whisper of sulfury egg hits the nose first, but blows off quickly and is followed by a fairly prominent Belgian yeast note featuring some light peppery phenol, a touch of clove, and a subdued generic fruitiness. There is a touch of yogurt-like lacto and some soft hop aromatics reminiscent of mango, citrus, and perhaps a touch of pineapple and honeydew melon. The nose is subtle, but nuanced.
Appearance (1/3):
Pale gold with a light haze. A low white head forms, but quickly dissipates under a crackle of soda pop like fizziness. No retention whatsoever.
Flavor (14/20):
There is a soft bready malt flavor that is quickly underscored by a fairly expressive peppery yeast character. The beer is somewhat tart, although much less so than I would have expected given the pH tested at 3.14 prior to pitching Saccharomyces. The beer is bone dry. The hop flavor is generally fruity and citrusy, which plays nice with the acidity in the beer. There is no hop bitterness. The beer gives an impression of mineral water with an almost seltzer-like finish.
Mouthfeel (2/5):
Extremely low-bodied with spritzy carbonation. There is a slightly astringent tannin present. The beer is very quenching, although perhaps a bit watery.
Overall Impression (7/10):
This is a nice refreshing beer. I think to be on target with the recipe's design intent it needs a bit more tartness and residual body to make it more sessionable and expressive.
Very Good (31/50)