Back in July 2013, I brewed a saison heavily hopped with American varietals, and split them into three separate secondary vessels inoculated individually with Brettanomyces Lambicus, Brettanomyces Bruxellensis, and a mixed culture of 'bugs' cultured from a bottle of Crooked Stave Surette. These cultures were added to the main beer after a short initial fermentation using Wyeast 3724 which (as expected) dropped early and left a lot of residual sugar (1.025) for the secondary cultures to work on. The beers were allowed to age with the mixed cultures for 5-months before being bottled for consumption.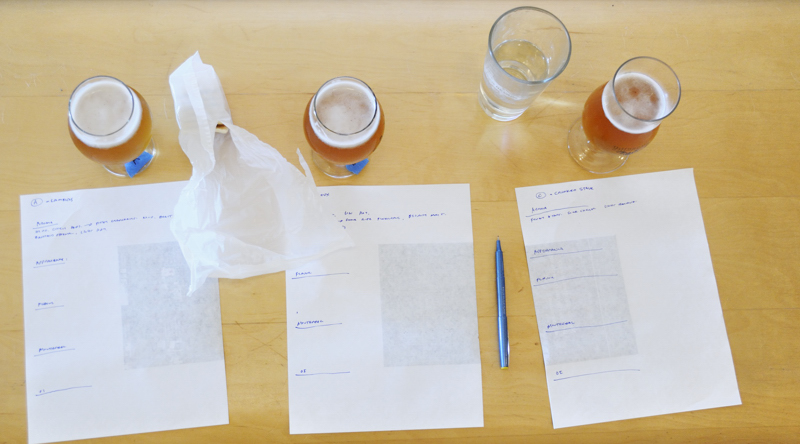 The goal of this experiment was to evaluate the impact that different secondary cultures can have on a base beer. It was amazing to taste how the different secondary cultures caused dramatically different transformations of the base beer. As expected, the two Brett strains were the most similar, with the Crooked Stave culture being clearly cut from a different cloth. Terminal gravities between the three samples were also slightly different:
Brett Lambicus: 1.004 (92.7% Apparent Attenuation)
Brett Brux: 1.002 (96.3% Apparent Attenuation)
Crooked Stave Culture: 1.006 (89% Apparent Attenuation)
Flavor and Aroma Notes:
Brettanomyces Lambicus (White Labs WLP653)
Overall, this beer has the mellowest level of Brett funk and fruity esters. The Brett character is medium in intensity and reminiscent of horse, hay, and earth. A touch of band-aid like phenol is present, but not overly offensive. There is a nice bready pilsner malt character that shines through the funk.
Brettanomyces Bruxellensis (White Labs WLP650)
This beer had by far the most pronounced Brett character. There is a moderately-high level of horsey / musty funk. The ester profile is really nice with slight hints of ripe pineapple and other fruit. There is a low level of band-aid phenol that is slightly higher than what was found in the Brett Lambicus sample. Again, there is a nice round bready malt character in both the Brett beers that somehow manages to shine through despite the high levels of attenuation.
Crooked Stave Surette Culture
By far the fruitiest sample. There is a round fruity ester reminiscent of tart pie cherries. This beer developed a nice level of bright lactic acidity. Not quite puckering, but pleasantly tart which helps reinforce the fruit notes. There is a light banana ester present which is a bit out of place. I am quite surprised with this beer's lactic character given the high level of hopping and lacto's typical intolerance to hop compounds. This makes me hypothesize that the strain of lacto Crooked Stave is using is more tolerant to high hopping than other commercially available strains. Funky Brett notes are present, but subdued. The nice malt character found in the previous two beers is well hidden beneath the big fruit character of this beer.
Final Thoughts:
Part of my goal with this beer was to evaluate how Brett strains meld with American hop varietals. While there was a bit of citrusy hops still present in the beers, it for the most part has oxidized and dissipated. For the next version, I think it is imperative to dry hop a beer like this after extended aging and prior to packaging to allow the volatile hop aromatics to survive in the final beer and meld with the Brett derived flavors and aromatics.