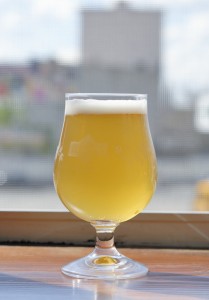 After nearly six-months, my Berliner Weiss with Brett Trois is ready for review. Utilizing sour-mashing techniques, my intention with this beer was to quickly turn-around a clean, refreshing, brightly acidic beer with a minimal investment of time. In the end, the finished beer meets my expectations, but the timeline ended up being much more protracted than I initially intended.
For many months, this beer was a pain in the ass. My initial plan was to ferment the beer cleanly down to a reasonable finishing gravity (1.007 or so) and then bottle condition with Brett Trois. Unfortunately, after primary fermentation with a clean ale yeast was complete, the beer finished at 1.010 SG. I suspect the Saccromyces strain (WYeast 1007) was impeded by the high acidity that the beer exhibited after the initial sour mash. Rather than bottle with Brett and risk bottle-bombs, I opted to add the Brett at secondary and hope for some further attenuation. After a couple more months, the Brett knocked a couple more points off the beer to the point that I was comfortable bottling. The caveat being, that I would not add any priming sugar as I suspected that there were still some carbohydrates in the beer that the Brett could work on. This turned out to become another source of frustration, as the carbonation came to life at a painfully slow pace.
Tasting Notes:
Judged as a BJCP Category 17A Berliner Weiss
Aroma (8/12):
Bright lactic acidity up front which pair nicely with some mellow pear-like ester. Quite fruity. Low crackery malt note. No hops, DMS, or diacetyl.
Appearance (3/3):
Hazy gold. A vigorous pour presents a fluffy white head that quickly dissipates to a ring in around the glass.
Flavor (12/20):
This beer presents with quite a lot of lactic acidity. The acid is somewhat tangy and slightly yogurt-like. At the same time, it is soft and round, especially when compared to sharper acids (like acetic). The bright acid gives way to a nice round crackery malt character that lingers on the finish. The malt is perhaps just a touch sweeter than the style would dictate. Hop flavor is absent, and there is barely a whisper of bitterness. There is a hint of papery oxidation on the finish.
Mouthfeel (1/5):
Low to medium-low body. Medium (2.5 volumes or so) carbonation. The carbonation is improving, but continues to not be nearly as effervescent as the style calls for. The lack of champagne-like carbonation is a big detraction in this beer.
Overall Impression (6/10):
After many months, this beer is getting to be really nice. The biggest problem is the lack high carbonation that would help the beer become even more bright and refreshing, and cut some of the slight residual malt sweetness that is present. Surprisingly, I am not picking up any of the typical Brett flavors that could be attributed to the Brett Trois addition. My instinct is to drink this beer now at its current carbonation level rather than risk increasing the low oxidative notes that are beginning to develop.