Judged as a BJCP Category 16B Belgian Pale Ale
Note: The Spawn of Duvel wasn't really brewed to fit the Belgian Pale Ale category, but that is the closest category it fits into.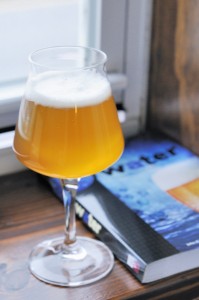 Aroma (6/12)
Very prominent banana ester that is reminiscent of artificially flavored banana candy or even under ripe green bananas. There is a bit of sharp alcohol that merges with this and reminds me that this beer is only 3 weeks old. The pear ester that I was hoping for is present, but in quantities that are barely perceptible. The is a very pleasant round pilsner malt aroma that is probably my favorite part about this beer. A herbal / earthy hop aroma is very low, but present.
Appearance (2/3)
The beer is a hazy rich gold color. The head is persistent and white. A couple weeks in the fridge should transform this into a much brighter beer.
Flavor (15/20)
The beer has a really nice slightly sweet pilsner malt character. The malt is a bit bread-like and features a very low, but complimentary toasty note on the finish. The banana ester and alcohol that was on the nose is much more subdued on the palate. Again, the hops are perceptible, but much lower in flavor than i had hoped or would have suspected based on the recipe formulation. There is a nice clean firm bitterness that doesn't linger and perfectly balances the malt. At the finish there is a slight mineral note that is bit chalky.
Mouthfeel (3/5)
The beer has a medium mouth feel with a nice creamy texture. The carbonation is in line with most beer styles, but could used a bump to better fit the category. No alcohol heat or astringency.

Overall Impression (6/10)
This is a very enjoyable Belgian Pale Ale. It doesn't have the malt complexity that the style guideline would call for which would likely hurt its scores in a beer competition. The main  problem I see with the beer is that the banana ester is way too dominate. This muddies the familiar resemblance to Duvel that I was hoping for. In next iteration of this beer I need to figure out how to change my fermentation profile to better create the ester character I was striving for. Additionally, I would like to dry the beer out a bit more by mashing at a lower temperature.
Total: 32/50 (Very Good)