It seems that more and more breweries are beginning to incorporate Brettanomyces into their brewing repertoire. When done well, I'm a huge fan. By and large, my favorites are those that focus on creating a pleasant and complex fruity character rather than a horsey, phenol-heavy Brett character typically produced by many strains. I'm not a huge fan of that type of aggressive phenolic Brett character, which I find to be at times overly harsh and perhaps even biting. I think this is one of the biggest mistakes being made by contemporary brewers trying to make funky beers. Bigger Brett character is not always better.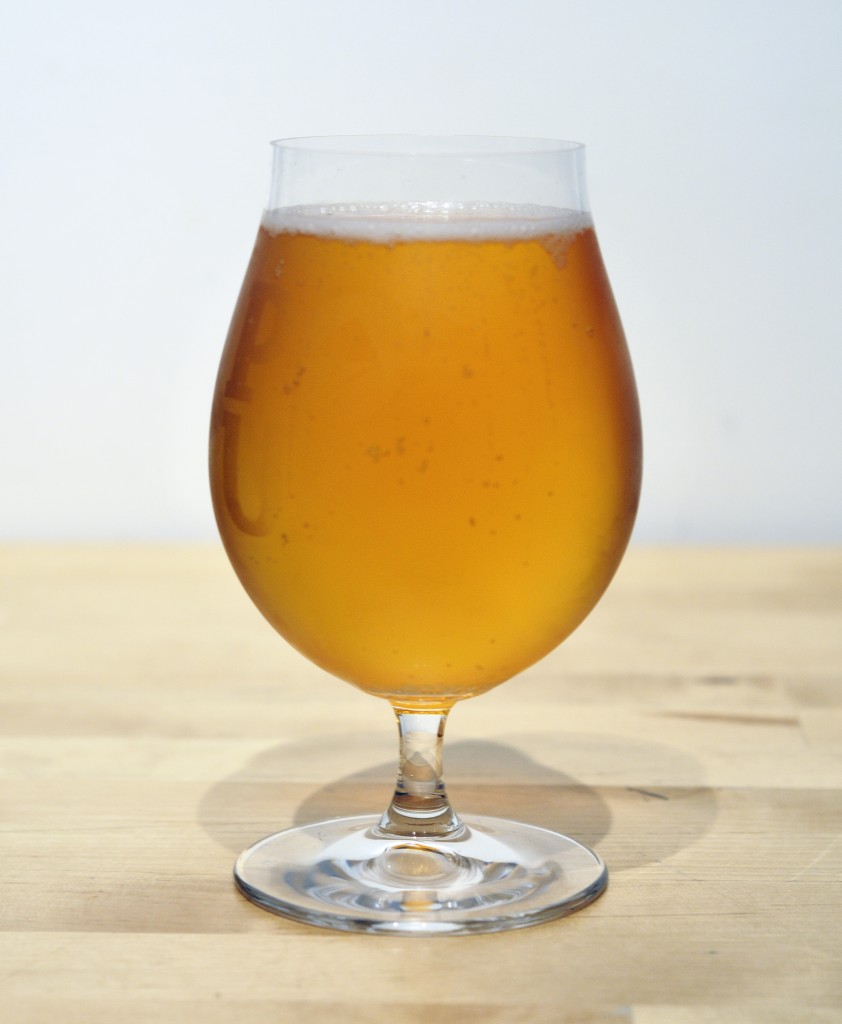 The key to this beer recipe is the oats which provide a nice silky component to what could otherwise be a very dry, thin beer. Even more important is achieving proper fermentation character. In my brewery, I am achieving this by utilizing a mixed culture which I've been propagating over a number of generations. The culture is composed primary of fruit-heavy Brett and Sacc strains, as well as a touch of Lactobacillus, which is kept in check through the IBUs in the beer.
Mixed Culture Saison Recipe
Specifications:
Size: 3.25
Efficiency: 68%
Attenuation: 96%
Original Gravity: 1.052
Terminal Gravity: 1.002
Color: 5.54 SRM
Alcohol: 6.57% ABV
Bitterness: 12.8 IBU
Malt Bill:
5 lb (69.0%) Weyermann Pilsner Malt
.75 lb (10.3%) Briess Flaked Oats
.75 lb (10.3%) Weyermann Pale Wheat Malt
.75 lb (10.3%) Weyermann Munich TYPE I
Mash Profile:
144 °F – 50m
154 °F – 15m
170 °F – 5m
Water Treatment:
Extremely Soft NYC Water
2g Gypsum (to mash)
2g Calcium Chloride (to mash)
Hopping:
6g Centennial (10.5% AA) – 90 m
Kettle Additions:
0.5 ea Whirlfloc Tablets (Irish moss) – 15 m
0.5 tsp Wyeast Nutrient – 10 m
Yeast:
1L Starter of my house saison culture. The mixed culture is made up of cultured Saison Dupont dregs, The Yeast Bay's Amalgamation Brett Blend, and White Labs Lactobacillus Brevis.
Tasting Notes:
Judged as 2015 BJCP Category 28A. Brett Beer.
Aroma (10/12):
This is a very fruity expression of Brettanomyces. The beer's fermentation character dominates the aroma, imbuing the beer with impressions of ripe fruit — cherry, honeydew, and even some tropical pineapple. A very light phenolic pepperiness is in the background with only the faintest hint of rubber. The malt character is very minimal and clean. There is a light tartness on the nose and just a hint of acetic sharpness. As the beer warms, some hot alcohol comes out which detracts slightly.
Appearance (1/3):
Beautiful deep gold with brilliant clarity. A large fluffy white head forms, but quickly dissipates — likely attributable to the Lactobacillus in the mixed culture.
Flavor (17/20):
The overall flavor is really clean considering that this is a mixed-fermentation beer. There is a touch of a leatherlike earthiness from the Brett, but most of the fermentation character is bright and fruity. The malt is really crisp and nice — like a good German pilsner. The beer is about six months old at this point and only has a hint of the Cheerio character it had exhibited only a couple months ago — something I attributed to THP from the Brettanomyces ferment.  There is a touch of acidity to the beer that is quite pleasant — not something I'd consider 'sour', but more of a complementary note to the fruitiness.
Mouthfeel (5/5):
The beer is very dry, but there is a bit of roundness to the body that prevents it from being too austere. There is a nice mellow acidity that combines with a relatively high carbonation to give a bright clean finish to the beer.
Overall Impression (8/10):
I am really happy to see how my house saison culture is expressing itself in the beers fermented with it. The Brettanomyces personality of this beer is much more in-line with ripe fruit than the earthy funk that can sometimes dominate Brett beers.
Excellent (41/50)