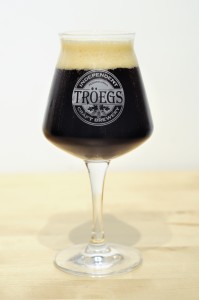 For me, the best Doppelbocks are pure expressions of German Munich malt. Providing a ton of flavor and richness through its high melanoidin content without bringing too much sweetness to a beer, Munich malt is a favorite of mine to brew with. Melanoidins are byproducts of Maillard reactions and differ in flavor from caramelization in that they lean more towards bready/biscuity/toasty as opposed to the caramel/toffee/burnt sugar exhibited by crystal malts. Varying amounts of Munich malt can bring different qualities to a beer. In small percentages, it enhances the overall malty impression of a base malt. When used in high percentages, such as in this beer, it provides an extremely rich toasty bread crust flavor.
Doppelbocks tend to be rich, highly-alcoholic beers that manage to not bog you down in the ways other high-alcohol beers can. This recipe is a work-in-progress as it continues to feel heavier than I would like. Future tweaks to the recipe will likely push the beer to attenuate better.
Doppelbock Recipe
Specifications:
Size: 3.25
Efficiency: 73%
Attenuation: 71.4%
Original Gravity: 1.084
Terminal Gravity: 1.024
Color: 22.23 SRM
Alcohol: 7.94% ABV
Bitterness: 25 IBU
Malt Bill:
8 lb (67.4%) Weyermann Munich II Malt
3 lb (25.3%) Weyermann Pilsner Malt
0.5 lb (4.2%) Weyermann Caramunich Type III
0.25 lb (2.1%) Weyermann Melanoidin Malt
2 oz. (1.1 %) Thomas Fawcett Chocolate Malt
Mash Profile:
146 °F – 25m
150 °F – 25m
154 °F – 20m
170 °F – 5m
Water Treatment:
Extremely Soft NYC Water
2g Gypsum (to mash)
4g Calcium Chloride (to mash)
Hopping:
1.5 oz Hallertau (2.7% AA) – 60 m
0.5 oz Hallertau (2.7% AA) – 5 m
Kettle Additions:
0.5 ea Whirlfloc Tablets (Irish moss) – 15 m
0.5 tsp Wyeast Nutrient – 10 m
Yeast:
Wyeast 2206 Bavarian Lager – Decanted 2L Starter on Stir Plate
Tasting Notes:
Judged as 2015 BJCP Category 9A. Doppelbock.
Aroma (12/12):
Liquid bread. Rich toasty bread crust dominates the aroma. The malt profile is very complex, possessing some slightly grape-like dark fruit aspects. There is a hint of a floral hop character that is somewhat surprising considering the low amount of finishing hops in the beer. Just a hint of toffee and caramel sits in the background. This beer exhibits a very clean ferment with no ester or alcohols apparent.
Appearance (3/3):
Deep brown with some garnet highlights. Crystal clear with a beautiful tightly-bound tan foam. Foam lasts for days. Perfect appearance.
Flavor (12/20):
This beer hits all the notes in terms of malt richness and complexity. Flavors of freshly baked bread crust dominate, but intermingle with some nice dark fruit components as well as a hint of toffee and perhaps just the faintest amount of dark cocoa. There is a bit of hot alcohol heat that hits the back of the throat. The beer has a considerable level of sweetness that reaches just beyond the range described in the style guideline. Hop bitterness is present, but more of a background balancing note.
Mouthfeel (2/5):
This is a full beer with a moderate level of carbonation. I wish the beer was a touch less full, which would enhance the quaffability of the beer.
Overall Impression (5/10):
This beer is so close to great. If I can get it to attenuate perhaps another 4-6 gravity points, it would be right up there with world-class examples. The sweetness is manageable, but makes it drink closer to a melanoidin-heavy barleywine rather than a true doppelbock.
Very Good (34/50)