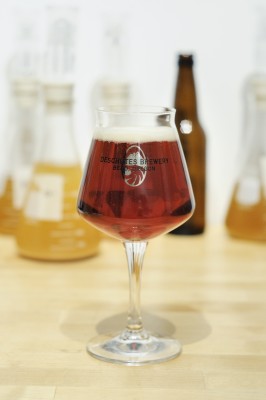 Update: This beer was awarded 2nd place in combined categories 6&7 at Homebrew Alley X.
Rauchbier is probably one of the most polarizing styles of beer to brew and consume. I take great joy in serving it to friends and co-workers unfamiliar with the style as it tends to elicit a broad range of reactions. Perhaps 10-20% of the people I've served it to emphatically enjoy the beer; while the rest find it an interesting curiosity, but not something they'd likely come back to pint after pint. I don't feel like there is much of a middle ground in terms of the enjoyment of rauchbier.
Luckily for me, I tend to enjoy the clean bacon-y smoke and neutral lager character exhibited by a good rauchbier. The first few sips are almost always unfailingly over-the-top, but this beer tends to grow on you as your palate adapts and becomes accustomed to the smokey malt. The key, however, is to not overdo the smoke—allowing it to be confidently present while finding a balancing element in the rest of the malt character. While not a beer with universal appeal, those willing to delve deeper into the style and find nuance beyond the smoke will be rewarded with a great imbibing experience. Whatever you do however, please don't use peat-smoked malt in this beer. Peat has a place in scotch, but is pretty gross in a rauchbier.
Rauchbier Recipe
Specifications:
Size: 3.25 gal
Efficiency: 72%
Attenuation: 76%
Original Gravity: 1.056
Terminal Gravity: 1.013
Color: 13.73 SRM
Alcohol: 5.58% ABV
Bitterness: 23.0 IBUs
Malt Bill:
2.75 lb (36.7%) Weyermann Smoked Malt (Beechwood)
2 lb (26.7%) Weyermann Munich TYPE II
2 lb (26.7%) Weyermann Vienna Malt
8 oz (6.7%) Weyermann Caramunich® TYPE II
4 oz (3.3%) Weyermann Melanoidin Malt
Mash Profile:
144 °F – 30m
151 °F – 30m
170 °F – 5m
Water Treatment:
Extremely Soft NYC Water
2g Gypsum (to mash)
4g Calcium Chloride (to mash)
Hopping:
42g Hallertauer (2.7% AA) – 60 m
Kettle Additions:
0.5 ea Whirlfloc Tablets (Irish moss) – 15 m
0.5 tsp Wyeast Nutrient – 10 m
Yeast:
White Labs WLP833 German Bock Lager- Decanted 2L Starter on Stir Plate
Tasting Notes:
Judged as 2015 BJCP Category 6B. Rauchbier
Aroma (12/12):
For what it is, the beer actually has a fairly mellow smoke note on the nose that is reminiscent of bacon and perhaps smoked kielbasa. The smoke is clean and crisp. Beyond the smoke is a moderate caramel and toffee malt presence followed by abundant amounts of toasty bread crust. The malt provides a certain level of sweet aroma acting to mediate the upfront smoke. The fermentation character is amazingly clean with no alcohol or ester character.
Appearance (3/3):
Deep copper with great highlights somewhere in hue between a ruby and garnet. The beer is crystal clear and would appease even the most dogmatic German brewmaster. The beer is topped with a tan foam comprised of tight tiny bubbles with outstanding persistence.
Flavor (18/20):
A smokey, bacon-like flavor assertively holds the palate while managing to not dominate the entire beer. There are layers of malt flavor beyond the smoke with abundant toasty bread crust, hints of deep caramel, and touches of almost dark fruit or grape. There is a very low hop bitterness providing just a bit of a counterpoint to the touch of residual malt sweetness. Most of the balance in this beer is achieved through the contrast between smoke and residual malt sweetness. The beer showcases an exceptionally clean fermentation profile without even a hint of ester, alcohol, or residual diacetyl.
Mouthfeel (4/5):
Medium-bodied with a touch of creaminess on the finish. The carbonation is moderate and quenching. No astringency.
Overall Impression (8/10):
This is a great rauchbier that falls at the medium to low-end of the pack in terms of smoke intensity. The beechwood-smoked malt used in this beer exhibits a bacon or ham-like character that may not be for everyone, but is true to the style. I really enjoy how the smoke in a beer like this provides a balancing counterpoint to what otherwise is a fairly complex and rich malt character.
Outstanding (45/50)