This year marks the 10th year of NYC's largest homebrew competition, Homebrew Alley, which is hosted by the New York City Homebrewers Guild. Year in and year out, this contest is consistently well run and a pleasure to judge. (So much so, Homebrew Alley and the National Homebrew Competition are the only two competitions that I consistently enter each year.) Feedback is always great, the prizes outstanding, and awards party a lot of fun. Homebrew Alley is also a great trial run for the National Homebrew Competition whose entries are due a few short weeks afterwards.
Special thanks go out to Alewife in Queens for hosting two days of judging, as well as the awards and after-party. They allow to commandeer their entire upper level, feed us tasty meals, keep the beers cold in their walk-in, and tolerate an influx of beer geeks.
Homebrew Alley X saw 491 entries submitted by 243 different brewers. It is interesting that the upward trend for entries has dropped somewhat dramatically from the peak of well over 700 entries a couple years ago. At the risk of imbuing too much meaning into these numbers and extrapolating some sort of trend, it does make me wonder a bit about the trajectory of the popularity of homebrewing. The American Homebrewers Association has made mention about the decline in homebrew shop revenue so perhaps the astronomic growth homebrewing has experienced in the past 5-10 years is beginning to waiver? Is NYC losing one of its two homebrew shops in the past year somehow related to this? Is it related to the broader economic condition with more people working and having less free time to brew beer? Perhaps this is just a sustainable leveling off of what had been astronomic growth? If it truly is leveling off, will this somehow translate to the pro side? It is easy to raise a lot of questions around this topic, but much harder to find any real hard stats to answer them. Perhaps in time hard data will be published that can provide answers to some of these anecdotal questions.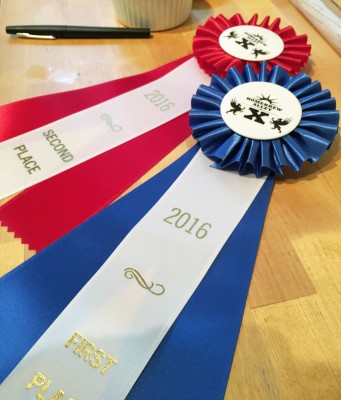 At this year's competition, I managed to place a couple of beers. My Rauchbier took second place in combined BJCP categories 6 and 7 while my Dry Irish Stout (recipe forthcoming) scored first place in combined BJCP categories 14 and 15. I was pretty confident in the quality of both of these beers so it was nice confirmation of my personal assessments.
Aside from the awards, this competition was a bit of a personal milestone for me. On the judging side, I've now accumulated enough experience points in the BJCP to move up in rank from Certified to National beer judge. Aside from bragging rights, it doesn't mean a helluva lot, but it is pretty cool nonetheless!