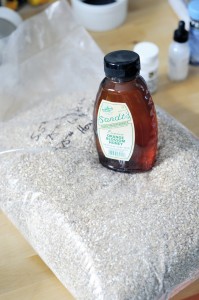 Synergy between ingredients is something that I often seek out when writing a new beer recipe. In this particular case, I started with the premise of wanting to use orange blossom honey in a beer. Orange blossom honey has a delicate orange flavor as well a soft floral honey bouquet. Building a beer recipe around these attributes, I started with a Belgian Pilsner malt base which I've found to produce a honey like sweetness in my beers. From there, the base malt was accented with a small amount of Gambrinus honey malt to emphasize the honey character. Additionally, I delicately hopped the beer with Mandarian Bavaria hops which I've found to have a pronounced sweet orange (not pith) character that would be delicate enough not to overpower the honey.
Honey | Orange Pale Ale Recipe
Specifications:
Size: 3.75 gal
Efficiency: 68%
Attenuation: 80%
Original Gravity: 1.050 SG
Terminal Gravity: 1.010 SG
Color: 6.07 SRM
Alcohol: 5.28% ABV
Bitterness: 20.3 IBU
Malt Bill:
5.5 lb (72.1%) Pilsner Malt (Dingemans)
0.75 lb (9.8%) Munich TYPE I – (Weyermann)
6 oz (4.9%) Honey Malt – (Gambinus)
Mash Profile:
146 °F – 60m
168 °F – 5m
Water Treatment:
Extremely Soft NYC Water
2g Gypsum (to mash)
4g Calcium Chloride (to mash)
Hopping:
16 g Mandarina Bavaria (7.2%) – 90 m
Note: After boil was complete, the kettle was topped up with cold water to lower temperature to 180°F.
2 oz (43.8%) Mandarina Bavaria – 180°F Steep – 15 m
1 lb (13.1%) Orange Blossum Honey – 180°F Steep – 15 m
2 oz (43.8%) Amarillo® – Hop Back (Blichmann Hop Rocket)
Kettle Additions:
0.5 ea Whirlfloc Tablets (Irish moss) –  15m
0.5 tsp Wyeast Nutrient – 10 m
Yeast:
WYeast 1056 American Ale™- Starter on stirplate to achieve 1 million cells per milliliter of wort per degree Plato. Use Mr. Malty to determine proper starter sized based on age of yeast package. Pitch into 60°F wort and allow to free rise to 64°F. As fermentation begins to slow, raise temperature to 70°F.
Tasting Notes:
Judged as a BJCP Category 23 Specialty Beer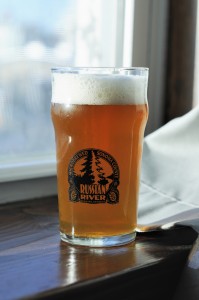 Aroma (10/12):
Low to moderate floral honey notes. There is a medium to medium-high sweet citrus / orange / tangerine hop aroma. Some soft candy-like malt sweetness is in the background. No alcohol, DMS, or diacetyl. The is a touch of grassy hops in the background.
Appearance (2/3):
Color falls somewhere between a light copper and a deep blond. There is a slight haze to the beer. Fluffy white persistent head.
Flavor (17/20):
Moderately high hop flavor that is like sweet or candied orange. None of the pithy bitter citrus flavors that are often associated with traditional types of citrus hops. Honey is strongly present and quite floral. Malt is soft and bready with a light crackery character. The hop bitterness is medium-low and leaves behind just a hint of malt sweetness. There is a wonderful honey flavor that persists through the finish.
Mouthfeel (3/5):
Crisp with a medium to medium-low body. Quite balanced. No astringency. Beer has a medium-high carbonation which is slightly biting.
Overall Impression (8/10):
This is a very nice balanced pale ale that showcases the honey content. The beer is exceptionally balanced with layer of flavors; none of which stick out or feel out of place. Very well crafted beer.
Excellent (40/50)