More and more I'm beginning to think that there is real potential to create delicious beers by exploiting the synergies that can take place between fruity American hops, and fruity yeast strains. To achieve this end, it is important to select the appropriate hop varieties that lean more towards the fruity/tropical rather than pine/resin end of the flavor spectrum. To further investigate these possibilities, I decided to brew up a super hoppy saison that would be complemented by the pleasant fruitiness provided by the Dupont saison yeast and intense tropical esters provided by Brettanomyces Trois (which may or may not actually be a Brettanomyces strain). Additionally, my goal in pitching a Brett strain along with the traditional Dupont strain would be to allow the Brett to finish up the ferment where the Dupont yeast typically stalls out.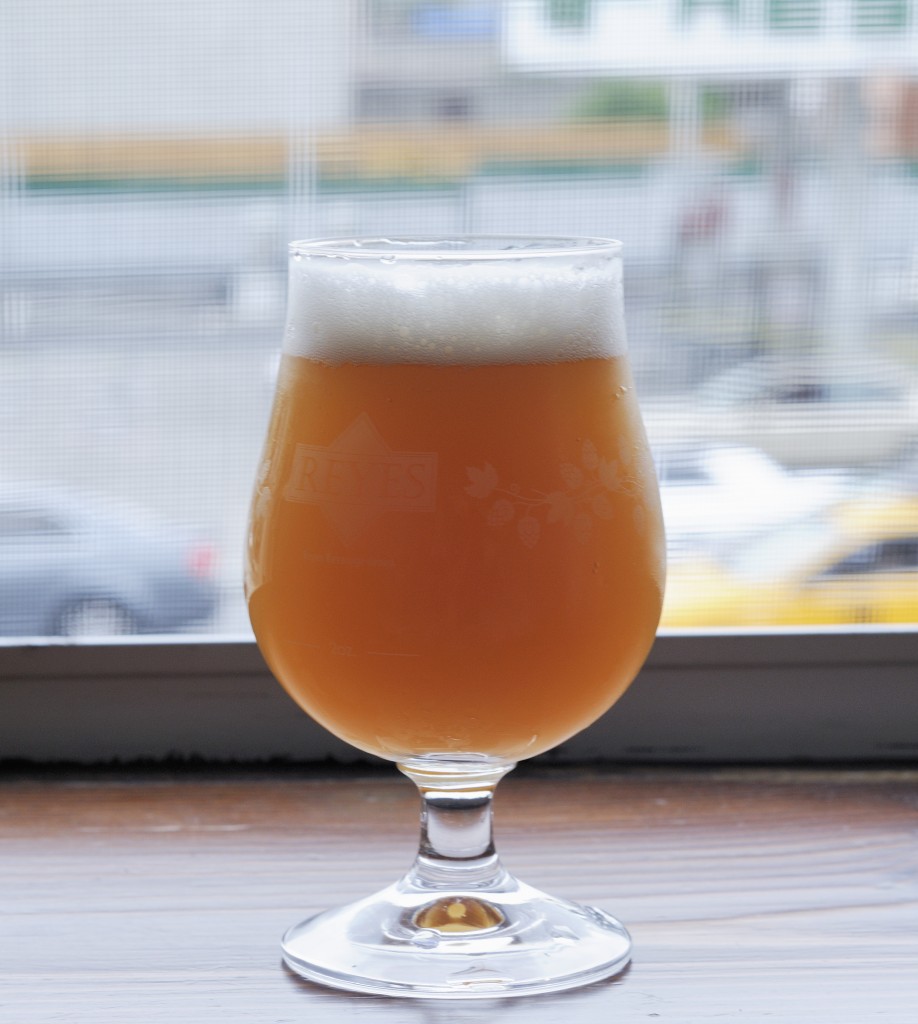 Hoppy Rye Saison with Brett Trois
Recipe Specs:
Size: 3.31 gal
Efficiency: 70%
Attenuation: 84%
Original Gravity: 1.050
Terminal Gravity: 1.008
Color: 3.87 SRM
Alcohol: 5.5% ABV
Bitterness: 30.6 IBU
Mash Temp: 144°F 90 min., 154°F 10 min.
Grain Bill:
5.75 lb (79.3%) Weyermann Pilsner Malt
.75 lb (10.3%) Weyermann Rye Malt
.75 lb (10.3%) Briess Flaked Rye
Hopping:
0.75 oz Mandarina Bavaria (7.2% AA) – 90 m
1 oz Citra™ (13.7% AA) – 180 degree hop stand – 20 m
2 oz Mandarina Bavaria (7.2% AA) – 180 degree hop stand – 20 m
1 oz Centennial (10.5% AA) – 180 degree hop stand – 20 m
2 oz Amarillo® (8.5% AA) – Hop Back
1 oz Mandarina Bavaria (7.2% AA) – Dry Hop 3 Days
1 oz Citra™ (13.7% AA) – Dry Hop 3 Days
Kettle Additions:
0.5 ea Whirlfloc Tablets (Irish moss) – 15 m
0.5 tsp Wyeast Nutrient – 10 m
Yeast:
WYeast 3724 Belgian Saison™ – Added to 2 gallons of wort
White Labs WLP644 Brettanomyces Trois – Added to 1 gallon of wort
The Saison strain and Brett strain were pitched on brew day into two separate fermentation vessels. Once the Saison yeast stalled (typical of this strain), the two fermenters were combined and allowed to co-ferment.
Water Treatment:
Soft NYC municipal water with 3g Gypsum and 2g Calcium Chloride added to the mash.
Tasting Notes:
Judged as a BJCP Category 16E Belgian Specialty Ale
Aroma (11/12):
Initially there is a big hit of meyer lemon-like fruit up front, followed by a massive amount of tropical fruit. The beer is almost reminiscent of POG (Passion Orange Guava) juice. Very bright and refreshing aroma. The impression of fruitiness is huge, but it is unclear where the hops and yeast character begin and end. A great melding of aroma compounds. Malt is soft and bready. No grassiness, alcohol heat, or other off-aromas. Just a hint of pepper — not as much as you'd find in a typical saison.
Appearance (1/3):
Murky gold. The hop haze and high-protein rye have produced a very muddy beer. Glass is capped with a nice persistent white foam.
Flavor (16/20):
Huge tropical notes fill the pallet. Very delicious and refreshing. Low amounts of pepper-like phenols are present and add to the beer's dry impression. The base malt is in the background and nondescript. The rye is evident and provides a spicy kick. The overall impression of dryness is very high and gives a great refreshing impression. The is a firm hop bitterness that is high for style, but works well in this beer.
Mouthfeel (5/5):
This is where the rye really shines. The beer has an immensely pleasurable silky mouthfeel that prevents a dry beer like this from feeling too austere. The silky body balances well against a prickly level of carbonation.
Overall Impression (9/10):
This is a fantastic, refreshing, and complex beer. In many ways, it feel more like a Belgian IPA than saison due to the immense hop aroma and flavor. The synergies that are happening between the potent hopping and yeast derived compounds work well. It will be interesting to see where this beer goes as the hops begin to fade and the yeast derived flavors come more to the foreground.
Excellent (42/50)