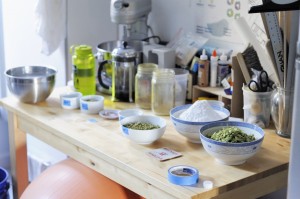 Take a ridiculously hoppy double IPA, increase the hopping and alcohol to ludicrous levels, and you have a decent outline for crafting a triple IPA. These are fun beers to brew, and a great way to use up any extraneously hops that may be buried in your freezer. This beer is very much in the same spirit as coveted beers like Pliny the Younger (you can read more about my club's attempt at cloning the Younger, here).
This is a tough beer to brew as it can easily fall victim to common faults. The most frequent and egregious fault with American-style IPAs is not achieving adequate levels of attenuation. Nothing ruins a big hoppy beer's drinkability quicker than excessive residual gravity or caramel flavors. This is even more apparent when you're pushing the beer to triple IPA levels. Controlling fermentability with the addition of simple sugars and low mash temps will take you most of the way. From there, it is key to pitch a big healthy population of yeast, adequately oxygenate the wort, and carefully control fermentation to keep higher alcohols in check.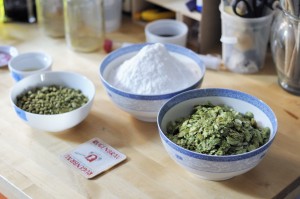 The second most common fault would likely be harsh or grassy hop flavors. This most commonly occurs when brewers leave dryhops in contact with the beer for excessive periods. Many sources cite the fact that the majority of hop oils are extracted within the first 24-48 hours of contact with our beer. Anecdotally, I've definitely experienced this and typically now only leave dry hops in contact with my beers for 2-3 days, maximum.
Lastly, it is extremely important to limit oxygen pickup post fermentation with your hoppy beers. Hop compounds are extremely susceptible to oxidation. Very few factors will contribute to the destruction of a hoppy beer quicker than oxygen. Purging vessels, pushing beer with C02 in closed loops, and cold storage can greatly increase the shelf-life of your hoppy beers.
Triple Tap Triple IPA Recipe
Specifications:
Size: 4.5 gal
Efficiency: 67%
Attenuation: 92%
Original Gravity: 1.088 SG
Terminal Gravity: 1.007 SG
Color: 8.3 SRM
Alcohol: 10.65% ABV
Bitterness: 55.7 IBUs (Doesn't account for substantial bitterness achieved with whirlpool additions)
Malt Bill:
12 lb (76.2%) Pilsner Malt (Weyermann)
1 lb (6.3%) Munich TYPE II (Weyermann)
.25 lb (1.6%) Caramalt 15 (Bairds)
Mash Profile:
147 °F – 60m
154 °F – 10m
168 °F – 5m
Water Treatment:
Extremely Soft NYC Water
6g Gypsum (to mash)
3g Calcium Chloride (to mash)
Hopping:
0.25 oz Centennial (10.5%) – 60 m
1 oz Centennial (10.5%) – 20 m
1 oz Amarillo® (8.7%) – 20 m
2 oz Citra™ (13.7%) – Whirlpool 20m
1 oz Amarillo® (8.7%) – Whirlpool 20m
2.5 oz Mandarina Bavaria (7.2%) – Whirlpool 20m
2.5 oz (17.5%) Amarillo® – Hop Back (Blichmann Hop Rocket)
2 oz Galaxy (14.0%) – Dry Hop @ Room Temp 3 Days
2 oz Citra™ (12.0%) – Dry Hop @ Room Temp 3 Days
Kettle Additions:
2.5 lb (15.9%) Corn Sugar – 15m
0.5 ea Whirlfloc Tablets (Irish moss) –  15m
0.5 tsp Wyeast Nutrient – 10 m
Yeast:
WYeast 1056 American Ale™ – Large starter on stirplate to achieve 1 million cells per milliliter of wort per degree Plato. Use Mr. Malty to determine proper starter sized based on age of yeast package. Pitch into 60°F wort and allow to free rise to 64°F. As fermentation begins to slow, raise temperature to 70°F.
Tasting Notes:
Judged as a BJCP Category 23 Specialty Beer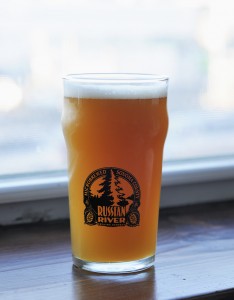 Aroma (10/12):
Huge, punchy hop-nose. The hops are extremely juicy and tropical — reminiscent of mango, orange, and pineapple. In many ways, this beer reminds me P.O.G. (passion fruit, orange, guave) juice. There is a moderate amount of grassy, plant-like aromas. By and large the hops are almost uniformly fruity with very little pine or resinous aromas. Malt character is slightly bready. No alcohol, DMS, or diacetyl are perceptible.
Appearance (1/3):
Beer pours a muddy copper color. Extremely hazy with hop compounds. Beer is capped with a bright white, thick, persistent head.
Flavor (10/20):
Taking a swig from the tasting glass fills your mouth with huge, round, hop flavors. The flavors are very fruity and tropical, although there is a slightly biting, resinous, bitterness on the finish. There is a bit of residual sweetness that keeps the beer feeling slightly full and heavier than I would like. As the beer warms, some warming alcohol dances across the palate.
Mouthfeel (3/5):
Medium body and carbonation. Some light hop astringency is present on the finish and detracts from the overall drinking experience. The hops seem to lend a creamy texture to the mouthfeel.
Overall Impression (6/10):
This beer pushes the level of hoppiness that I am able to enjoy almost to the breaking point. The beer is young and brash with bold assertive flavors that come off a touch green. It is very much in the same vein as beers like Pliny the Younger, which are best enjoyed in small glasses and shared with friends.
Very Good (31/50)