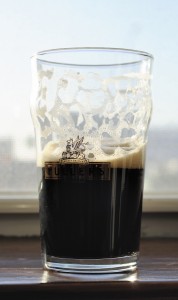 Update: This beer was awarded 1st place in combined categories 14&15 at Homebrew Alley X.
One of the great session beers in the world, Irish Stout is often maligned as being thick, heavy, chewy, sweet, and high in alcohol. This is a really interesting phenomenon as I see the style as being quite the opposite. For me, it is a low-alcohol session beer that has quite a bit of interesting roast character and enough flaked barley to keep the mouthfeel from being too thin.
I've thought about this quite a bit and am convinced that that the root of the problem has to do with the fact that it is typically the adventurous choice made by the typical non-craft drinker. In comparison to a beer like Bud Light, I would certainly agree that it is the heavier option. More so, I think a lot of the misconception in regard to Irish Stout has to do with the fact that the beer is nearly black–something that many people psychologically associate with something being heavy.
The basis of this recipe is the heavily cited clone recipe for Guinness Stout. The main change I implemented was in the overall composition of the roasted malts. I've used English ale strains for this beer in the past, but have found that American Ale yeast works even better, providing a clean fermentation character while being more attenuative.
Dry Irish Stout Recipe
Specifications:
Size: 3.25 gal
Efficiency: 60%
Attenuation: 75%
Original Gravity: 1.046
Terminal Gravity: 1.012
Color: 37.31 SRM
Alcohol: 4.53% ABV
Bitterness: 41.7 IBU
Malt Bill:
5 lb (69.0%) Crisp Maris Otter
1.25 lb (17.2%) Barley Flaked
8 oz (6.9%) Crisp Roasted Barley
4 oz (3.4%) Crisp Chocolate
4 oz (3.4%) Briess Midnight Wheat
Mash Profile:
152°F – 60m
Water Treatment:
Extremely Soft NYC Water
Added to mash:
2g Gypsum (Calcium Sulfate)
5g Chalk (Calcium Carbonate)
Hopping:
36g East Kent Goldings (5.7% AA) – 60m
Kettle Additions:
0.5 ea Whirlfloc Tablets (Irish moss) – added during boil, boiled 15m
0.5 tsp Wyeast Nutrient – added during boil, boiled 10m
Yeast:
Wyeast 1056 American Ale – 1L Starter on Stir Plate
Tasting Notes:
Judged as a BJCP 13A. Dry Stout
Aroma (10/12):
Medium-low roast character that is dry and toasty while being reminiscent of coffee with a hint of bitter chocolate. Behind the roast are some nice bready and slightly toasty notes. No diacetyl, DMS, alcohol, or other off-aromas.
Appearance (2/3):
Just a shade lighter than black with some reddish ruby highlights. Clear. Great frothy foam with a beige head (white is typical to style).
Flavor (15/20):
Medium level of roast with lots of coffee notes and just a touch of acrid and burnt character. Very low levels of chocolate flavor. Malt is nice and toasty. Hop bitterness is medium-low with a very smooth character. No hop flavor. The finish is quite dry. Slightly acidic / tart twang on the finish.
Mouthfeel (4/5):
Low body with a full creamy mouthfeel. Dry. Just a touch of roasty astringency on the finish.
Overall Impression (7/10):
This is a really nice Irish stout. There is a touch of acidity from the roast which balances out the smooth mouthfeel provided by the flaked barley. Very sessionable and dry, but also intriguing with its nuanced roast character.
Excellent (38/50)