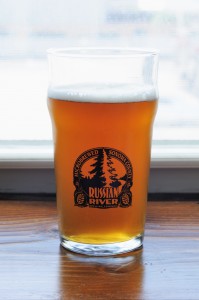 The new proprietary hops currently being developed by the likes of HBC and others in the Yakima valley are wonderful, interesting varieties. Citra, Amarillo, Mosaic, Nelson, and Galaxy with their intense flavors of tropical fruits and citrus are both novel and delicious. They're also, very much in demand by today's craft brewers. Over the past couple of years I've been playing around with the idea of someday, in the not-too-distant future starting a craft brewery. With the competition  for these hops coming from established brewers with deep pockets, it can be be very difficult for a new brewery to establish contracts for these new varieties. With this reality in mind, it would be an interesting proposition to see if there is a combination of readily available hops (like those popular in 1996) coupled with contemporary techniques (dryness, massive whirlpool, massive dry hop) that can be utilized to create the bright juicy hop character seen in today's most popular IPAs. This is my first attempt at a recipe that strives to do just that.
American IPA Recipe
Specifications:
Size: 3.25 gal
Efficiency: 62% (measured)
Attenuation: 83.3% (measured)
Original Gravity: 1.066
Terminal Gravity: 1.011 (measured)
Color: 10.78 SRM
Alcohol: 7.2% ABV (calculated)
Bitterness: 42.9 IBU (does not account for IBUs created by whirlpool hop addition)
Malt Bill:
7 lb (75.7%) Briess Pale Ale Malt
0.25 lb (2.7%) Briess Victory® Malt
1 lb (10.8%) Great Western White Wheat Malt
1 lb (10.8%) Corn Sugar – added to boil
Mash Profile:
149°F – 60m
Water Treatment:
Extremely Soft NYC Water
4g Gypsum (to mash)
Hopping:
0.5 oz Centennial (10.5% AA) – 60 m
1 oz Cascade (5.5% AA) – 10 m
1 oz Columbus (15.0% AA) – Whirlpool 25m
1 oz Chinook (13.0% AA) – Whirlpool 25m
2.5 oz Centennial (10.5% AA) – Whirlpool 25m
1 oz Centennial (10.5% AA) – Dry Hop 3 Days
1 oz Columbus (15.0% AA) – Dry Hop 3 Days
Kettle Additions:
0.5 ea Whirlfloc Tablets (Irish moss) – added during boil, boiled 15 m
0.5 tsp Wyeast Nutrient – added during boil, boiled 10 m
Yeast:
Safale US-05 – American Ale Yeast
Tasting Notes:
Judged as a BJCP 14B. American IPA
Aroma (5/12):
There is a substantial hop fruitiness that is almost lemony on the nose. The upfront fruitiness is supported by some pine and an earthy, almost musty hop character with spicy undertones. Some grassy dry hops notes are present. The malt is very neutral. In general the hop character on the nose is very muddled.
Appearance (3/3):
The beer is deep gold, almost copper, and surprisingly clear. This is astonishing considering that the beer is bottle conditioned and dry hopped. A nice tight white head persists.
Flavor (8/20):
The hops are upfront and dominated by a lemony citrus quality muddled by some resinous notes of pine and spice. The bitterness is quite sharp and coarse. The malt present is slightly toasty and dry. There is some boozy alcohol on the finish as well as a touch of honey-like oxidation.
Mouthfeel (3/5):
Medium-low bodied with a prickly effervescence. A bit over-carbonated. The hop bitterness borders on astringent.
Overall Impression (4/10):
This beer is a long way from being a great. In particular, I think the hops choices are somewhat poor, creating a muddled and at times conflicting hop character. In the next iteration, I plan to use fewer varieties that are more synergistic than the combination of citrus and pine that I employed in this recipe. The malt character is great — lean and dry — right where I like my IPAs to be. I made the mistake of bottle conditioning this beer which seems to have imparted some oxidization, making it tough to truly judge the merits of this recipe.
Good (23/50)