With the veritable explosion of craft breweries opening in NYC, any craft beer geek could be happily satiated blowing their beer tourism payload traveling the five boroughs enjoying all of the new offerings the city has to offer. That said, the surrounding areas around NYC are also booming with new breweries equally as exciting as anything happening in the city. Northern New Jersey is just one of these regional hot beds, offering a decidedly different experience than in the city. Chasing beer among the crowds of NYC can frankly be a bit tiring. Going out to New Jersey was a nice respite from the hustle and bustle of NYC.
Recently, I had the chance to spend an afternoon touring three of New Jersey's finest breweries: Kane Brewing Company, Carton Brewing Company, and Magnify Brewing Company. With a little advanced planning, it is an enjoyable day trip from any part of NYC.
Kane Brewing Company
Our first stop of the day was Kane Brewing Company in Ocean, NJ. The Homebrew Wife and I hit the road early, leaving Brooklyn behind and escaping with little to no traffic via the Verrazano Bridge and Staten Island. With Kane just over an hour away, we had a bit of time to kill since the brewery didn't open until noon. We happily spent the extra time fortifying ourselves with a breakfast of Pork Roll sandwiches at Frank's Deli in Asbury Park. Starting our day with the quintessential New Jersey processed meat proved to be just the right beginning for a busy day of brewery hopping.
We arrived at Kane just as they were opening. Situated in a nondescript industrial park, the exterior barely hinted at the great beer inside. A tiny sign and the handful of patrons exiting cars empty growlers in hand were the only hints that you were arriving at a brewery. Coming into the building via a banal lobby better fit for the engineering office that shares space in the same building, we were greeted by a friendly staff and some great beers. We quickly made our way through the lobby past a small bar designed for quick growler fills and entered the actual brewery and main tasting room. The brewery itself was relatively compact with a large amount of the area dedicated to a tasting bar for flights and growler fills, as well as warehouse space with several picnic and standing tables.
We ordered a couple of tasting flights and spent some time relaxing in the warehouse space. Kane's hoppy beers were among the best I've tasted coming out of the NYC area. My favorite by far was Head High, showcasing a very lean and dry malt character with lots of bright citrusy hops and a minimal level of bitterness.
Simplicity, Kane's take on a Belgian Golden Strong ale was also great. The beer had a nice orange-like sweetness backed by a soft bready malt character and restrained Belgian yeast fermentation character showcasing fruity esters and minimal amount of peppery phenols.
Overhead, Kane's Imperial IPA, felt like Head High on steroids. The hop flavor was huge, although it had a bit of an overly aggressive, grassy hop aroma with elements leaning towards the unpleasant vegetative / chlorophyll part of the hop spectrum. All of this was placed against a slightly sweet, and slightly boozy, malt backbone.
Carton Brewing Company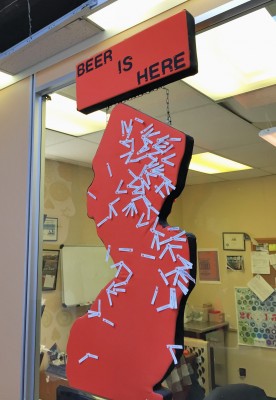 We headed north from Kane up the Jersey Shore to Carton Brewing Company in Highlands, NJ. Entering the ground floor of an old painted red brick building, we were immediately greeted by a staff member who checked our ID's and then led us on (what we would soon learn to be) the requisite brewery tour as stipulated by New Jersey as a requirement for breweries wishing to offer beer tastings. The tour took us through the brewery, the history of the building, and the brewing operations at Carton Brewing before being letting us loose to an upstairs tasting room where our beer samples awaited.
The tasting room itself was rather compact and jammed with a mid-Sunday beer tasting crowd. We purchased a 6-sample flight to share, which was redeemed one-at-a-time with the tokens we were given. This was slightly problematic as the bar was pretty packed and waiting for single samples of beer quickly became a bit of a chore.
The beers at Carton were solid, seeming to focus on achieving a certain level of balance and quaffability rather than blowing out your taste buds with intense flavors.
Among my favorites were Boat Beer and Red Rye. Boat Beer was dry and quite bitter with a nice level of aromatic citrus-laden hops—although perhaps finishing a touch thin. Red Rye was the stand out for me, featuring a perfectly complementary balance of slightly sweet malt, peppery rye spice, followed by tangerine and grapefruit hop components. 077XX, Carton's 'West Coast inspired' double IPA fell flat for me—overly sweet although it did deliver a nice punch of fruity hops.
Magnify Brewing Company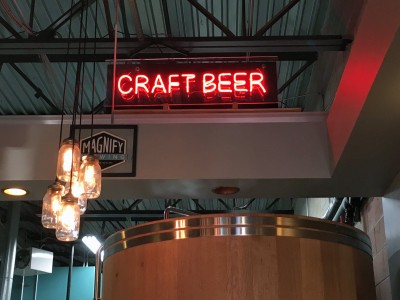 The last stop on our New Jersey brewery tour was Magnify Brewing Company, situated about an hour north of Carton in Fairfield, NJ.
I was pretty excited to hit up Magnify since the brew kettle is currently manned by Erich Carrle, an old acquaintance that I met through our The Knights of Brooklyn Homebrewer's Sentry, a club I occasionally frequent and which Erich was an active member of. Back before Erich was brewing great beers at Magnify, he was doing awesome funky beers on the homebrew scale and sharing them at club meetings. I was pretty excited to see how this would transfer to the pro scale at Magnify.
New Jersey seems to be filled with anonymous industrial parks and the one Magnify inhabits is no different. Once inside however, the company's personality becomes apparent with a warm, pleasantly sized tasting room situated at the front end of what appeared to be a rather tightly planned brewery. Immediately adjacent to the taproom is a large wooden foudre hinting at the beer styles produced within. The tasting room itself was packed, but getting a drink and finding a spot to settle into was pretty easy.
The brewery feels like a family-run affair with warm friendly servers behind the bar. The tap list was eclectic and featured plenty of funky beers utilizing alternative yeasts and blending American hops into spin-offs of Belgian classics. Magnify was right up there with Kane as having my favorite beers of the day.
Unfortunately, it didn't appear that Magnify served samplers so we limited our tastings to sharing three half pours of Magnify's offerings. All three were really excellent and we could have easily spent more time here working through the brewery's offerings had we the time (or liver capacity) to do so.
Flashbacks are Forever: this very approachable and tasty funky saison featured a mild level of acidity followed by brightly aromatic and fruity hops and moderate levels of Brett funk. Dry. Very drinkable. My favorite beer of the day.
Search Saison: just a touch of of sulfur on the nose, which volatilizes quickly. Perhaps just a hint of an enteric note. Peppery phenols and slightly herbal hops. Not as bright as Flashbacks, but still nice and dry and wonderfully drinkable.
Pollinator: fairly dank and aggressive with lots of piney resin character in the hops. A bit grassy. Very restrained bitterness with a light honey character on the finish. Again, well fermented and dry.
Things to Know Before Visiting New Jersey's Craft Breweries
You're Going to Need a Car
There really isn't any way around the fact that you're going to need auto transport from brewery to brewery. Public transit is something we take for advantage in the city, but really isn't an option if you're stopping at more than one brewery in the widespread outposts of New Jersey. Tied to the car is the inherent risk of driving while under the influence. Responsible consumption and planning accordingly cannot be overstated. On this trip, I limited myself to only a handful of small pours which were typically shared with my wife at each shop. We made sure to have a big meal before, drink plenty of water, and not finish any of the samples we received. Our cumulative consumption was well under a single beer at each stop, spread out over the course of about 5 hours. This kept us well below the point of even the faintest hint of a 'buzz' and confidently within legal limits.
It's a Bit of a Trek
Everything on a map looks close. On the worst of days, getting in and out of the city can suck up massive quantities of time. We avoided this by leaving the city early and getting back late—effectively missing peak traffic times. Even with minimal traffic, it was still about an hour and fifteen minute drive from our apartment in Brooklyn to the southern most brewery, Kane.
Tolls Add Up… Quick
Seriously. Between bridges, tunnels, and turnpikes we spent well over $60 on tolls. Plan accordingly and bring cash and change if you don't have an EZ Pass.
Time Management is Key
It's important to research the hours of the taprooms you plan to visit. I went on a Sunday and all three taprooms I visited were open noon-5 pm. When factoring in travel time between breweries, it was important to keep an eye on the clock and heavily moderate the amount of sampling at each stop to ensure that we didn't feel overly rushed and that we didn't overconsume. Three breweries was really the maximum number I'd want to visit in the short time frame we were working with.