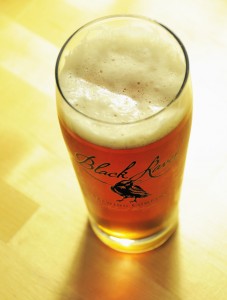 It's been about six weeks since I've brewed my Vienna Lager — prime time to review this brew. This is the third or fourth time I've brewed a Vienna Lager, and I'm always excited when the time comes to tap a fresh keg. The recipe is primarily a blend of Munich, Pilsner, and Vienna malts. The goal is to create a clean and crisp malt-forward lager, while imbuing enough character to remain interesting. Getting the beer to finish relatively dry and low in alcohol helps to make this a great session beer. This beer is similar to what a beer like Negra Modelo or Dos Equis Amber could be if they were all-malt beers.
Fermentation went nearly perfectly with the beer starting at 1.052 and ending at 1.014 — approximately 73% apparent attenuation. The beer has been lagering at 32°F for the past 4 weeks and is ready for a taste.
Tasting Notes:
Judged as a BJCP Category 3A Vienna Lager
Aroma: (10/12)
The aroma is somewhat subdued, and very clean. There is a really nice round bready malt component that is very inviting and reminiscent of freshly baked bread. Intertwined are aromas of toasted biscuit and crusty sourdough. The is a light hint of sweetness that reminds me of golden colored caramel and provides a slight impression of sweetness.
Appearance: (2/3)
Rich amber with ruby red hues. The beer is clear, with just a hint of haze that should clear with a little more lagering time. The head is bright white, sticky, and persistent.
Flavor: (18/20)
The flavor is all about the interplay between toasty, dry, melonoiden-rich malt that finishes with a light touch of residual malt sweetness. There is no hop flavor that I can detect, but the bitterness is firm and clean, helping to keep the beer very balanced. To better fit the style, the beer could be a hair less bitter, otherwise it is nearly spot-on to style.
Mouth Feel: (4/5)
Medium-low bodied with a crisp and clean finish. There is a miniscule touch of astringency on the finish that provides further drying and slightly pushes it out of style.
Overall Impression: (8/10)
This is a beautiful beer to look at and consume. The balance is to the malt side, but it does so with a deft hand keeping it crisp, refreshing, and delicious. I will certainly be making this delicious recipe again.
Score: 43 / 50 (Excellent)