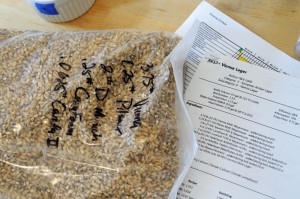 Update: Unfortunately, the beer didn't place in the second round of NHC. It did get pretty good scores however. I've uploaded the score sheets, in case you're curious.
You can probably tell by my history of posting Vienna Lager recipes, that I love brewing (and drinking) the style. It is a great sessionable lager, and a lot of fun to brew. With that said, brewing this batch had ulterior motives.
My last batch of this beer turned out great. Judges tended to agree as it placed in both Homebrew Alley 8, and the first round of the National Homebrew Competition. Unfortunately, the bottles I have left are starting to show their age and will be well past their prime when the second round of the NHC occurs this June. With that in mind, I decided to brew up another batch. The recipe below was brewed on 3/30/14. This is pushing the time frame that I would normally be comfortable turning a lager of this strength around in. With careful yeast management and temperature control, it should be just enough time for the mid-June second round of the competition.
Recipe
Recipe Specs:
Size: 3.24 gal
Efficiency: 68%
Attenuation: 74%
Brew Date: 3/30/14
Original Gravity: 1.052 SG
Terminal Gravity: 1.014 SG
Color: 13.97 SRM
Alcohol: 5.07% ABV
Bitterness: 24.1 IBUs
Grist:
3.75 lb (51.3%) Vienna Malt – Weyermann
1.25 lb (17.1%) Pilsner Malt – Weyermann
2 lb (27.4%) Munich TYPE II – Weyermann
4 oz (3.4%) Carafoam® – Weyermann
1 oz (0.9%) Carafa® TYPE II – Weyermann
Water Additions (in Mash):
Soft NYC Water
4g Calcium Chloride
Mash Regiment:
20m – 144°F Beta Rest
Decoct to Alpha Rest
20m – 156°F Alpha Rest
Direct Fire to Mashout
5m – 168.0°F Mashout Rest
Hopping:
24g Hallertauer Mittelfrüher (4.0% AA) – 60 m
14g  Hallertauer Mittelfrüher (4.0% AA) – 10 m
Kettle Additions:
0.5 ea Whirlfloc Tablet – 15 m
0.5 tsp Wyeast Nutrient – 10 m
Yeast:
White Labs WLP833 German Bock Lager – 1800ml Starter on Stirplate
Fermentation:
1. Chill to 46°F and keep at 48°F until activity slows.
2. Raise to 58°F for diacetyl rest 24 hours.
3. Cool 6°F / day until back down to 32°F.
4. Rack to corny keg and lager at 32°F 3-4 weeks.