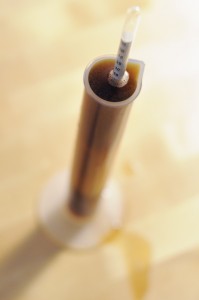 Update 3/22/14: Tasting and Review
For those who were able to get entries into the 2014 National Homebrew Competition, time is running short to brew and select the beers your want to enter. For 2014 the AHA has enacted a four-entry limit, a dramatic shift from past years, which were wide open, and a direct testament to the competition's growing popularity.
For those hardcore competition enthusiasts, the NHC has always been a numbers game. Chasing prizes like the Ninkasi was about brewing and entering as many high-quality beers as you physically could. At first glance, the new limits seem to even out the playing field. This is generally true and dramatically changes the meaning of prizes like the Ninkasi. The opportunity, however, still exists for those wishing to play the numbers game in a more nuanced manner. Taking a look at the pre-competition selection side of the game unveils another opportunity to strategize. In many ways, the new limits not only force you to test your skills as a brewer, but also the analytic skills a brewer must use in order to select the beers they believe are the truest interpretations of their respective styles.
In order to best increase my chances, I have a pool of approximately eight beers from which I plan to select my four entries. One of the beers I'll be selecting from is a Northern English Brown ale. This is the first time I've brewed this beer since it won a gold medal in the second round of the 2012 NHC. The recipe remains true to the original with slight changes for recipe size and availability of specialty grains.
Northern English Brown Recipe
Size: 3.25 gal – My goal is to net 2.75 gallons into the fermenter.
Efficiency: 64%
Attenuation: 75.0% (estimated)
Original Gravity: 1.050 SG
Terminal Gravity: 1.013 SG (estimated)
Color: 17.62 SRM
Alcohol: 4.95% ABV (estimated)
Bitterness: 25.3 IBU (calculated)
Grist:
4.75 lb (65.5%) Maris Otter (Crisp)
1.5 lb (20.7%) Vienna Malt (Weyermann)
4 oz (3.4%) Special Roast Malt (Briess)
4 oz (3.4%) Victory® Malt (Briess)
4 oz (3.4%) Crystal 60 (Thomas Fawcett)
4 oz (3.4%) Pale Chocolate Malt (Thomas Fawcett)
Hopping:
20 g East Kent Goldings (5.8% AA) –  60 m
0.25 oz Styrian Goldings (3.2% AA) – 5 m
0.125 oz East Kent Goldings (5.8% AA) – 5 m
Kettle Additions:
0.5 ea Whirlfloc Tablets – 15 m
0.5 tsp Wyeast Nutrient – 10 m
Yeast:
WYeast 1469-PC West Yorkshire Ale – 1L 1.040 Starter on Stir Plate
Mash Regiment:
Saccharification Rest – 152 °F – 60m
Mashout – 168 °F – 5m
Fermentation:
1. Chill to 60°F and let rise to 64°F. Hold until activity begins to slow.
2. Raise temp to 70°F until all activity is complete.
3. Crash to 32°F 2 days then package.