This is not a Newcastle Brown clone recipe.
Not that there is a problem with Newcastle per-say. It is a fine beer (especially on draft)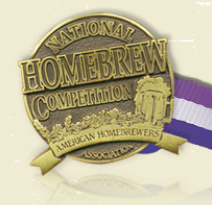 but simply not what I was looking to get out of this beer. I wanted to design something that focused more on the nutty and toasty characteristics of the style and minimized some of the sweeter full-flavors you can get with too much crystal malt. That being said, I also wanted to provide a hint of one of my favorite crystal malts – Crisp C77 which I think has a wonderful toffee and raisin characteristic. I also wanted to test some of Gordon Strong's theories about using large portions of Vienna malt and no-sparge techniques in British beers. I think it worked. Please note that an erroneous copy of this recipe featuring brown malt appeared in the September / October 2012 issue of Zymurgy. This is the correct recipe that won gold in the second round of the 2012 National Homebrew Competition.
Specifications
Volume: 6 Gallons
Original Gravity: 1.051
Terminal Gravity: 1.013
Color: 18.21 SRM
Alcohol: 4.99%
Bitterness: 27.8
Efficiency: 57% (tweak recipe to match efficiency of your brew house)
Boil Length: 60 Minutes

Ingredients
10 lb (66.1%) Maris Otter; Crisp
3 lb (19.8%) Vienna Malt; Weyermann
12 oz (5.0%) Special Roast Malt; Briess
8 oz (3.3%) Victory® Malt; Briess
8 oz (3.3%) Crystal 77; Crisp
6 oz (2.5%) Pale Chocolate; Crisp
42 g (74.8%) East Kent Goldings (4.7%) – added during boil, boiled 60 m
1 ea Whirlfloc Tablets (Irish moss) – added during boil, boiled 15 m
.5 tsp Wyeast Nutrient – added during boil, boiled 10 m
.25 oz (12.6%) East Kent Goldings (4.7%) – added during boil, boiled 5 m
.25 oz (12.6%) Styrian Goldings (4.3%) – added during boil, boiled 5 m
1 ea WYeast 1469-PC West Yorkshire Ale – 1800ml starter on stir plate
Water
Carbon-filtered Seattle water which is very soft.  All salts added to grist before mashing in.
2.0 g Gypsum (Calcium Sulfate)
4.0 g Calcium Chloride (Calcium Chloride)
2.0 g Epsom Salts (Magnesium Sulfate)
Mash
60 Minute Saccharification Rest at 152° F
10 Minute Mashout Rest at 170° F (I do a second hot water infusion to mashout)
No sparge. Add sufficient volume of water to simply drain mashtun and hit pre-boil volumes.
Fermentation
Chill wort to 60° F and pitch yeast slurry.
Slowly ramp temperate over the course of 5 days to 68° F and keep there until terminal gravity is hit.
Crash to 32° F and package.
Keys to Brewing
The West Yorkshire yeast strain is fairly unique and helps it stand out among other beers in the category. I picked up a nice apricot ester from it.
Use authentic British maltsters. They are unique and help lend to a more authentic flavor.
Awards
The beer brewed from this recipe has won awards as a BJCP Category 11c. Northern English Brown:
2012 NHC First Round – 1st Place
2012 NHC Final Round – 1st Place