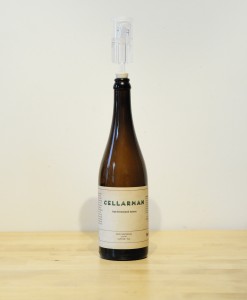 Why just drink sour beer, when you can also grow up the dregs in the bottles, propagate the sour cultures, and then use them in your own beers? This is the premise of my new 'Grow Your Own' series. The idea is simple. I'll be propagating the dregs from some of America's best sour beers and then do some basic analytic and sensory analysis on the resulting starter beer. My goal is to eventually maintain a library of unique mixed cultures that have data associated with them which can aid in their selection for future beers. I have created an evaluation form for each culture that captures analytic facts such as pH and specific gravity, while also allowing space for notes and sensory data via a spidergraph chart.
Procedure for Sour Dreg Propagation
1. Spray the cap and a portion of the neck of the beer you're culturing with isopropyl alcohol. Light it on fire and let the flame burn out.
2. Open up the beer and carefully decant into a glass. Save approximately a 1/2″ of beer in the bottom of the bottle.
3. Pour into the beer bottle approximately 200ml of sanitary 1.030 specific gravity wort. Place a sanitized stopper and airlock on the bottle.
4. Let the dregs begin fermenting at room temperature. It may take up to 3-4 days to see much activity. Let the culture do it's thing for about 1.5 weeks.
5. Prepare 200ml of sanitary 1.060 wort in a 500ml Erlenmeyer flask. Cool and pour all contents from the bottle into the flask. I am starting with a high gravity wort at this point, as I am counting on the contents of the bottle it is combining with to dilute the sugar content. Let the culture ferment out 2 weeks.
5. Prepare 1000ml of sanitary 1.040 wort in an Erlenmeyer flask. Decant the spent beer off the culture and pour into the new starter wort. Let this ferment for a couple days at which time it is ready to be used in a beer.
Sante Adairius – Cellarman
To begin this project, I started with a phenomenal beer call Cellarman from Sante Adairius Rustic Ales in Capitola, California. This was one of my beer highlights of 2015 (thus far), and I'm really stoked to have their culture in my micro-library. The culture was very fresh and took off quickly. While fresh, the beer was able to develop some mild acidity, and lots of spicy and slightly funky Brett notes.
In terms of fermentation, the culture performed well:
Starting Gravity: 1.040
Terminal Gravity: 1.008
Apparent Attenuation: 80%
pH 3.78
You can read the full analytic and sensory analysis for this culture, here.