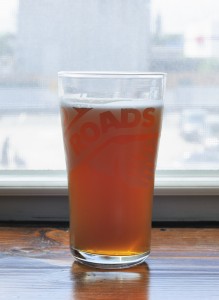 Malty. Dry. Balanced. These are the characteristics I prize most in a well-made British session beer. I am a firm believer that the judicious use of high quality English base malts like Maris Otter will take you most of the way in achieving an interesting and nicely balanced bitter. A touch of crystal, herbal hops, and fruity yeast act as the seasoning that takes you the rest of the way.
With all the hoppy, sour, and high alcohol beers I've been brewing, a sessionable bitter was a great change of pace.
English Bitter Recipe
Specifications:
Size: 3.25 gal
Efficiency: 67% (measured)
Attenuation: 72% (measured)
Original Gravity: 1.048
Terminal Gravity: 1.011 (measured)
Color: 32.8 SRM
Alcohol: 4.8% ABV (calculated)
Bitterness: 14.11 IBU (does not account for IBUs created by whirlpool hop addition)
Malt Bill:
6lb (92.3%) Crisp Maris Otter
0.25lb (3.8%) Thomas Fawcett 45L Crystal Malt
0.25lb (3.8%) Bairds Crystal 130
Mash Profile:
150°F – 60m
Water Treatment:
Extremely Soft NYC Water
2g Gypsum (to mash)
2g Calcium Chloride (to mash)
Hopping:
1oz East Kent Goldings (5.7% AA) -60m
2oz East Kent Goldings ((5.7% AA) – Whirlpool 15m
Kettle Additions:
0.5ea Whirlfloc Tablets (Irish moss) – 15m
0.5tsp Wyeast Nutrient – 10m
Yeast:
Wyeast 1469 West Yorkshire Ale
Tasting Notes:
Judged as a BJCP 8B Special Bitter
Aroma (10/12):
Moderately intense fruity esters upfront that have almost an apricot and perhaps cherry character. Below this is a round toasty malt note with just a hint of caramel and toffee. The inviting nose finishes with a whisper of herbal and floral hops that have just a hint of a rose character.
Appearance (1/3):
Light copper with a noticeable haze. Head is bright white with great persistence.
Flavor (16/20):
Medium-full malt greets you with notes of freshly baked bread, toasty crust, and just a hint of deep caramel and raisin. There is a good amount of toffee as well. The hop bitterness is medium-low, enhancing an already dry finish. There is a slight mineral character on the finish.
Mouthfeel (4/5):
Medium-low body with a full creamy mouthfeel. Carbonation is medium-low and to style. There is a slight minerally astringency on the finish.
Overall Impression (8/10):
This is a beautifully balanced beer where none of the constituent ingredients feel out of place with the overall beer. The yeast character is really unique among English strains and gives the beer a delicious character not seen in many English bitters. Really nice.
Excellent (39/50)