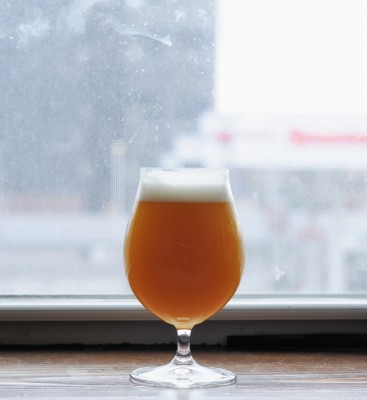 Love them or hate them, "juicy", hop-heavy double IPAs in the same vein as Heady Topper are here to stay. These massively hopped fruit bombs have a fanatical following, drawing hordes of thirsty drinkers to the remote wilds of Vermont, Massachusetts, and other New England locales.
Recently, some of the vocal hosts of The Brewing Network have had a good time poking fun at fans of these beers and claiming that they are simple cloudy, poorly made versions of what West Coast breweries have been making for years. The comments are typically made in jest, but they fail to recognize that there is a fair amount of intent involved in making these beers, in terms of ingredient selection and process. The biggest contributor of the haze in these beers is likely a specific yeast strain popularized by a brewery in Vermont and now used by a number of breweries producing these types of hoppy beers. This strain produces a very unique fruity ester that tends to harmonize with hop flavor and aromatics, making excellent hoppy beers. It is also quite dusty, leaving a fair amount of haze in suspension. The combination of this particular yeast strain with an obscene amount of late and dry hopping, flaked adjuncts, and an unwillingness to use heavy filtration, makes for a well-made, albeit very hazy beer.
Curious about this particular strain of yeast, I decided to take my Double Tap recipe, using Giga Yeast's GY054 Vermont Ale strain and brew up a massive hoppy double IPA. I ended up using a heavy hand of Azacca hops, a strain that I've been enjoying quite a bit lately.
Double Tap – Vermont Style – Recipe
Specifications:
Size: 4.5 gal
Efficiency: 74%
Attenuation: 84.0%
Original Gravity: 1.084
Terminal Gravity: 1.013
Color: 6.12 SRM
Alcohol: 9.37% ABV
Bitterness: 72.4 IBUs
Malt Bill:
7lb (50.0%) Weyermann Pilsner Malt
4lb (328.6%) Briess 2-Row Brewers Malt
1lb (15.4%) Weyermann Munich Type I Malt
2lb (14.3%) Corn Sugar
Mash Profile:
148°F – 60m
Water Treatment:
Extremely Soft NYC Water
4g Gypsum (to mash)
2g Calcium Chloride (to mash)
Hopping:
0.5 oz Warrior® (16.0% AA) – 90 m
1 oz Citra™ (12.7% AA) – 10 m
1 oz Azacca (10.8% AA) – 10 m
3 oz Citra™ (12.7% AA) – Whirlpool 15m
1 oz Azacca (10.8% AA) – Whirlpool 15m
2 oz Mosaic (11.6% AA) – Whirlpool 15m
1.5 oz Citra™ (13.2% AA) – Hop Back
1.5 oz Azacca (11.3% AA) – Hop Back
2 oz Citra™ (12.7% AA) – Dry Hop 3 Days
2 oz Azacca (10.8% AA) – Dry Hop 3 Days
1 oz Mosaic (11.6% AA) – Dry Hop 3 Days
Kettle Additions:
0.5ea Whirlfloc Tablets (Irish moss) – 15m
0.5tsp Wyeast Nutrient – 10m
Yeast:
2L Starter on Stir Plate – Giga Yeast GY054 Vermont Ale
Tasting Notes:
Judged as 2015 BJCP Category 22A Double IPA
Aroma (10/12):
A massive, juicy hop aroma explodes from the glass with aromatics reminiscent of mango, pineapple, and other tropical fruit. The beer has an overripe character not unlike a tropical fruit punch. It is hard to get much aroma of anything beyond the in-your-face hop profile. As the beer warms, a touch of hot ethanol reminds you that this is a nearly 10% ABV beer.
Appearance (1/3):
The beer is a deep golden hue, but muddied by a tremendous amount of haze. The head is big and pillowy with large white bubbles that persists for days.
Flavor (12/20):
The beer's flavor falls somewhere between hop tea and tropical punch. There is a fair bit of residual sweetness that is emphasized by the fruity hops and the fact that the beer is a bit under-bittered for the gravity it started at. The beer tastes well-attenuated and dry, but is lacking a sharp bitterness for balance. Although similar to the somewhat low-bittered Vermont style IPAs, it needs more sharpness to be in line with the BJCP style definition.
Mouthfeel (4/5):
The beer is extremely creamy, almost oily. I suspect that this yeast strain produces high levels of glycerol that, when combined with exorbitant hopping, gives the beer a very full mouthfeel. This is accentuated by the slightly low level of carbonation in the beer.
Overall Impression (5/10):
I absolutely love the aroma of this beer, although it falls a bit flat on the palate. I think this is mainly due to the fact that when you combine an under-bittered beer with a huge mouthfeel, you tend to limit the beer's drinkability. In future batches I will definitely increase the bitterness in order to account for the beer's substantial mouthfeel.
Very Good (32/50)