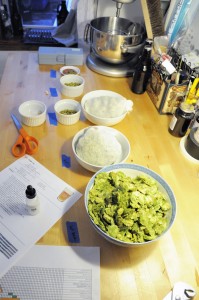 Update: Single Tap IPA Reviewed
In the past, I've had good luck brewing my IPA. My standard recipe has won a number of awards and tastes great. That being said, my attention span is short and it is time to change things up. Between the fresh 2013 hops I had ordered in bulk (from Hops Direct) and capabilities built into my current brewery, the time was nigh to make some tweaks to Single Tap.
On the brew house side, I am now able to do a pump-driven whirlpool. This allows me to better simulate the extended whirlpool often done with the best commercial IPAs. Additionally, I now have a hop back that allows for one last infusion of hops directly before going into my plate chiller to cool. Finding Amarillo hops during the 2013 brewing year was nearly impossible. I've overcompensated this year by purchasing massive amounts of the 2013 Amarillo crop, which this recipe has been built around. I've also included a small charge of Sterling hops — a tip I picked up from Mitch Steele of Stone Brewing during last year's National Homebrewers Conference. (The idea is that the Sterling will add a bit of complexity and nuance to what is otherwise a citrus heavy hop bill.)
Single Tap IPA Recipe
Size: 4.32 gal – My goal is to net just under 3 gallons into the fermenter.
Efficiency: 70% – Calculated
Attenuation: 75.7% – Calculated based off of OG and FG readings.
Original Gravity: 1.066 SG – Measured
Terminal Gravity: 1.016 SG – Measured
Color: 10.78 SRM
Alcohol: 6.58% ABV – Calculated
Bitterness: 63.2 IBU – Actual measured IBUs will likely be a bit higher. My software doesn't account for the whirlpool hop contribution of bitterness.
Grist:
4.5 lb (38.3%) 2-Row Brewers Malt (Briess)
4 lb (34.0%) Golden Promise Malt (Crisp)
2.25 lb (19.1%) Vienna Malt (Weyermann)
8 oz (4.3%) White Wheat Malt (Briess)
6 oz (3.2%) Caramunich® TYPE II (Weyermann)
2 oz (1.1%) Acidulated Malt (Weyermann) – for pH adjustment
Hopping:
6 g Columbus (15.0% AA) – First Wort
20 g Sterling (7.5% AA) – 15 m
14 g Centennial (10.5% AA) – 15 m
1 oz Amarillo® Leaf (9.6% AA) – 10 m
12 g Columbus (15.0% AA) – 10 m
1 oz Amarillo® Leaf (9.6% AA) – Whirlpool 20m
14 g Centennial (10.5% AA) – Whirlpool 20m
8 g Sterling (7.5% AA) – Whirlpool 20m
3 oz Amarillo® Leaf – Hop Back
1 oz Centennial (10.5% AA) – Dry hop 3 days
2 oz Amarillo® (8.7% AA) – Dry hop 3 days
Kettle Additions:
0.5 ea Whirlfloc Tablet – 15 m
0.5 tsp Wyeast Nutrient – 10 m
Yeast:
1 ea Wyeast 1056 American Ale™ – 1400ml starter on stir plate
Mash Regiment:
Saccharification Rest – 150 °F – 60m
Mashout – 168 °F – 5m
Fermentation:
1. Chill to 62 °F and keep at 64 °F until activity slows (4-6 days).
2. Raise temp to 68 °F until fermentation stops.
3. Crash to 32 °F (2 days)